---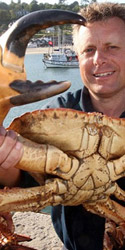 Monster crab with claws the size of a man's hand captured off the British coast
It lurked in the wreck of an old battleship 160ft below the surface – a true monster of the deep.Diver Paul Worsley could hardly believe the size of the giant crab he found in Lyme Bay, off the Dorset coast. Careful to avoid its fearsome claws, he managed to get it into a bag and raise it to the surface.
For his efforts, he can congratulate himself on capturing what experts believe is the biggest edible crab ever landed. It weighed 17lb and had a shell width of 12in while each of its massive claws was as big as a man's hand.The previous largest edible crab on record is in the collection of the Museum National d'Histoire Naturelle in Paris. Its carapace was 11in wide.
Mr Worsley, from Aylesbury, Buckinghamshire, said: 'I couldn't believe it when I saw it.'
Andy Horton founder of the British Marine Life Study Society, said: 'If anyone has found a bigger one could they let us know?'Unfortunately, Mr Worsley's crab will not be displayed in any museum. A friend has eaten it.
source: dailymail.co.uk.