---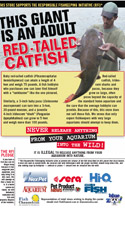 Help stop the release of anything from an aquarium into local waters.
Here is some information that I received from HIQ-USA.
Red-tailed catfish, pacus and iridescent sharks may be sold as juveniles to hobbyists who don't realize how large these fish may eventually become; all can grow to over 3 feet in length. People who find themselves with huge specimens they can no longer care for may not always be able to find a home for them and as a last resort hobbyists may release these fish into local waters. This is not only illegal, but it is wrong, dangerous, and very bad for the aquarium hobby and industry.
The Responsible Fishkeeping Initiative (RFI), sponsored by the companies indicated at the bottom of this page, is an effort on the part of concerned people and companies to put a stop to the release of anything from an aquarium into the wild. Retail fish stores participating in the RFI agree to two things: 1). not to sell these species, and 2). to accept large specimens of any species from people who can no longer care for them. The stores will attempt to place the fish in new homes, and if they cannot do so the fish will be humanely euthanized.
If you represent a store wishing to join the RFI, you will receive the 11 by 17-inch full-color poster to the right, to display in the store, and the RFI bumper sticker. If you are a hobbyist wishing to support the RFI, you will receive a bumper sticker. All you have to do is follow these steps:
1. Click here to go to the Aquarium Fish International "Contact Us" page.
2. Fill out the form with your name, address, company name, etc.
3. On the form, click on the "Subject" pull-down menu, scroll down and choose either "RFI – Industry Supporter" or "RFI – Hobbyist Supporter."
4. In the "Description" box, make sure to include your address and ZIP code and please describe your business (local fish store, full-line pet store, etc.). Or simply write, "hobbyist."
5. You will be given a code to enter at the end, then click "Submit."
Once your request is received a poster and/or bumper sticker will be mailed to you and you/your store will have joined the Responsible Fishkeeping Initiative. Congratulations!