---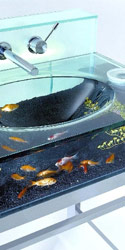 If you are one of the lucky people to have a fish tank toilet, then you'll need to add this to your bathroom…the fish tank sink…
The Moody Aquarium Sink by Italbrass, designed and manufactured in Italy, was created to give a playful and pleasing atmosphere to the bathroom environment. Moody is both a sink and a self-contained aquarium which can also be used as a terrarium and decorated with sand, rocks and plants. There are two openings, one on each side of the sink top, closed by two decorative glass soap dishes that allow maintenance of the aquarium Moody is not only a simple washbasin, but also an aquarium for goldfish, a Zen garden or a simple pebble river bed or whatever you would like it to be.
It is completely watertight with a sand bed for fish, and provides the necessary lighting for maintaining your fish in healthy conditions. A powerhead is also provided to ensure water circulation, oxygenation and filtration. There are two openings, one on each side of the basin, closed by soap dishes to access the crystal top for cleaning purposes or changing arrangement. The washbasin is mounted on a chrome finish brass stand provided with a convenient front towel rail. Moody Aquarium lavatory sink and stand. Very unique design and a great conversation piece.
It's currently 33% off…
List Price: $9,100.00
Sale Price: $6,097.00
You Save: 33%
If you do get one, PLEASE INVITE ME OVER.