---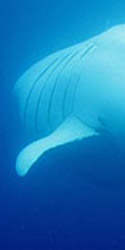 now this is cool…
excepts from the article…
Whale sharks are unusual and mysterious creatures but this rare albino specimen makes it even more so. The 10-metre long shark was pictured swimming off the coast of Darwin, the northern-most island of the Galapagos.
Galapagos guide Antonio Moreano, who took the pictures, said he had never seen an albino whale shark before.
"In my job as a dive guide I have seen many things from being right in the middle of a feeding frenzy with silky sharks to watching orcas eating hammerhead sharks," he said.
"But nothing compared to what I saw that afternoon last August."
"It was 4:30pm and I and six guests were at Darwin's Island, set to make the fourth dive of the day. "As we were on the boat checking our equipment I saw a big white thing by the surface of the water.
"At the beginning I could not tell what it was – I had never seen anything like it before. "So I decided to put my mask on and put my face over into the water. "Right after this I explained to my guests that it looked like a white whale shark and we were going to all jump in the water and try to follow it.
"I told everyone to keep a distance and not disturb it so we all jumped in the water and followed it for five minutes. "I kept up swimming with it and I got very close – even the eye was white.
"Then we all went back on the boat and we spotted the shark again and we all jumped into the water again this time only with snorkelling gear." Returning to the water with his camera gear, Antonio dived to around 50 feet as he attempted to catch up with the whale shark.
"I free dove 50 feet down and is when I finally managed to get some pictures of it," he said.
Rare albino whale shark spotted off the Galapagos coast by photographer Antonio Moreano "It was difficult because I did not want to frighten it away so I stayed a few metres away. "After a few minutes the albino disappeared and nobody has ever seen it again!
"The whole experience from the moment I first saw it to the time it swam away lasted around 30 minutes. "I was very excited but it was not until we came back to the boat that I finally realised and understood how special this sighting was. "It was a unique experience and was maybe the best gift that my beautiful islands could've ever given to me."
read more here.