---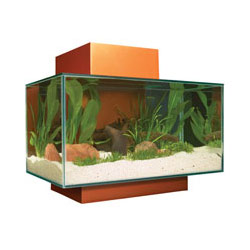 Looking for a modern and sleek looking nano tank? The Fluval Edge is the most modern looking tank to be released in a very long time. It gives you a 3 dimensional viewing of the tank and thanks to it's size, you can put it on your desk, next to your bed or even the kitchen countertop.
With new features such as a partially sealed top which helps reduce evaporation, a large but hidden opening which allows more oxygen exchange to keep your fishes healthy and happy and a new floating base design which makes it easy to place and gives you a modern looking addition to your house.
The Fluval Edge lighting and filtration are tucked away beneath the removable top cover. It's well hidden so you can't see it unless you remove the top. It also comes with a compact halogen light system that gives you plenty of light…over 3 watts per gallon to be exact. A new 3 stage power filter provides your tank with all the proper mechanical, chemical and biological filtration.
The Fluval Edge Aquarium comes with lighting, filter and filter media, tap water conditioner, and aquarium conditioner to get your aquarium started right! Comes in your choice of orange, matted black or pewter.
Dimensions:
WIDTH 10 1/4 in.
LENGTH 16 7/8 in.
GALLONS 6 Gallons
HEIGHT 7 3/4 in.
[phpbay keywords="Fluval Edge Aquarium" num="1″ trackingid="MFT-4934″]