---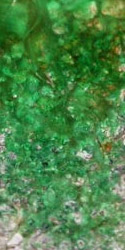 Blue-green algae and erythromycin
by -at-Tony.Clementz.mikrbiol.lu.se (Tony Clementz)
Date: 7 Feb 92
Newsgroup: rec.aquaria
I've followed the postings about blue-green "algae" and Maracyn (erythromycin) the last few weeks and the following is an attempt to review some facts about erythromycin (the active ingredient in Maracyn) and blue-green algae, with special emphasise on the use of erythromycin for treating blue-green "algae" infections.
BLUE-GREEN "ALGAE" IS NOT AN ALGAE.
Thats right. The correct name is blue-green bacteria (or cyanobacteria for those latin freaks out there). So without going into a lot of details, blue-green algae is a bacteria so an outbreak of the stuff in your tank is actually an infection.
It is important to know that blue-green bacteria comprise a large and heterogeneus group of organisms. Not even the color is the same. Some are green, some blue-green, and some are red. They can be found almost everywhere in nature. They are usually more tolerant to extreme environments than "normal" algae and can be found in hot springs as well as saline lakes. Drying your gravel and tank is subsequently not an efficient way to get rid of them. Some species can even be found in the middle of the dessert. Blue-green bacteria efficiently absorbes light between 550-700 nm, which is roughly the same as for plants and green algae.
As we all know, they thrive in warm water, rich in nutrients. However, many blue-green bacteria is not dependent on nitrite, nitrate, or ammonia, since they can use molecular nitrogen (nitrogen fixation). This all leads to the well known conclusion – once established in the tank, they are a pain in %&#-%&. I wonder how many potential aquarium hobbyist has been lost because their first tank became covered in green slime within six month.
GRAM-NEGATIVE AND GRAM-POSITIVE BACTERIA.
Bacteria can be divided into two groups, either Gram- negative (G-) or Gram-positive (G+). This classification is based on if the bacteria stains (+) or not (-) in a special staining technique – the Gram staining (invented by Christian Gram). Positive or negative staining reaction reflects a fundamental difference in the structure of the cell wall of the bacteria.
ERYTHROMYCIN IS AN ANTIBIOTIC.
Erythromycin is more efficient towards G(+) bacteria than G(-). It is one of the safest antibiotics, meaning that it does not affect plants, fish or animals. Blue-green bacteria belongs to the G(-) bacteria but it is a special case with respect to sensitivity to antibiotics (i'm on thin ice here, but I think I am correct). They are more sensitive to erythromycin than other G(-) bacteria. Fortunately, the bacteria important for the nitrogen cycle (your biofilter) are of the G(-) type and are much less sensitive to erythromycin than the blue-green bacteria. So your biological filter is "fairly" safe.
The reason that some tanks experience an ammonia peak after treatment with erythromycin is (probably) not because the biological filter is non-functional. It is more likely that it is because of the high content of protein released from the dead blue-green bacteria which is broken down to ammonia and/or nitrite by the "good" nitrifying bacteria in your biofilter. This boost of protein to be broken down upsets the finely tuned balance of different bacteria in your filter. (Actually, if you killed of all bacteria in your tank and filter, you would never get ammonia).
In many countries in Europe there are restrictions on buying antibiotics. You usually need a prescription. I suggest contacting a vet. If he can prescribe antibiotics for a mouse I'm sure he can do the same for your tank. Remember, your tank is infected.
WHAT NOT TO DO.
First a few things NOT to do (my own, very personal, experience).
If you have an established infection, do not try to get rid of it by turning the lights of. Most likely this will get you into more trouble. Your going to kill of the "good" algae and the plants, but the blue-green bacteria is going to return when you turn the lights back on (usually more fiercly than before).
Personally I don't like copper. Copper is poisonous to everything – plants, fish, and bacteria. At least in Europe, most "miracle" treatments you buy contains copper.
You could try manually removing the blue-green algae, combined with extensive water changes. But in my experience it's fruitless, unless you spend all your free time with your fingers in the green slime. Ever tried to clean the stuff away from Cabomba or Java fern? Then you know what I mean.
WHAT TO DO.
Of course, tank hygien is important. Regular water changes and all that. But for those who has been doing it all according to the textbook and still wondering if your doing something wrong, don't despair, you have'nt been hit by a blue-green curse.
Me myself, I get an infestation in about every second tank (freshwater) I set up. These does not correlate to any increase in ammonia, nitrite, or nitrate (I do not keep check on phosphate, but I plan to). One exception is tanks with soft and acid water. You rarely find blue-green bacteria in these tanks since most bacteria, including blue-green, do not like acid conditions.
The followin is my suggestion for battleing blue-green algae:
First make sure that it is blue-green bacteria and not the "normal" algae. Remember that erythromycin is ineffective on anything but bacteria.
Day 1.
Add 2.5 mg/L erythromycin. If you have a protein skimmer, turn it off. I believe it will inactive a lot of the antibiotic through coprecipitation with protein. It will, however, be very usefull later.
Day 2.
Add 2.5 mg/L erythromycin.
Day 3.
Now you should see a lot of dead blue-green bacteria floating around in the tank. Increase filtration (a second mechanical filter if possible) to get rid of it. If you have a protein skimmer, turn it on. The critical thing now is to get rid of as much protein (dead bacteria) as possible to avoid a peak of ammonia.
Day 4.
Most blue-green bacteria should be dead by now. Try to clean out as much as possible of the dead stuff. I use a jet stream of water from the outlet of a canister filter to remove it from plants and decorations. Combined with the second mechanical filter, this works fine for me. Let the filter work for a couple of hours then make a 50% water change. Add 2.5 mg/L erythromycin.
Day 5-7.
Wash the mechanical filter at least once a day. Keep check on ammonia and nitrite but do not change any water unless absolutely necessary. The extra filter can be removed as soon as the water clears up.
Day 8.
Make a 30% water change. Add 1 mg/L erythromycin.
From now on, resume your normal maintenance.
The concentration I use is in theory a bit high and getting up where it should starts having an effect also on G(- ) bacteria. When I started using erythromycin I had problems using lower concentrations in the tank. It was not very effective. It might be time to check it again.
One word of caution. Only use erythromycin when you really need it or you might end up with blue-green bacteria resistent to the antibiotic.
My practical experience of using erythromycin to battle blue-green bacteria is limited to my own few tank (and some friends). It would be interesting to get some feedback from people with experience (good or bad) of battling blue- green bacteria (with or whithout erythromycin). I would of course post a summary of the response.
Submitted by Ron Reisdorf
[phpbay keywords="remove aquarium algae" num="3″ trackingid="70-remove-aquarium-algae"]