---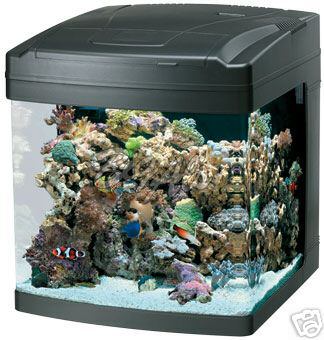 Description:
#Ready for salt or freshwater use and includes Coral Life power compact lighting.
#Integrated wet/dry filtration.
#15.5 x 15 x 16.7″H
#Dual filter skims surface and bottom
#Curved glass corners
#Remote ballasts
#2 compact fluorescent lamps + lunar blue moon glow LED lamps
#UL listed pump with adjustable discharge
#Viewing window for sump area
#Sealed light lens cover
BioCube Setup Tips
To make your aquatic environment harmonious and beautiful, it is important that you do not overstock your aquarium. A general recommendation is to stock 3 to 4 small fish in a size 8 BioCube, four to six fish in a size 14 BioCube and five to eight small fish in a 29 BioCube. The amount of fish you keep in your BioCube also depends on your fishkeeping experience level. If you are new to the hobby, you may want to start by keeping one to two fish.
Once you are comfortable with controlling the environment levels, and your fish are healthy, you may wish to add one new fish at a time over the course of several weeks.
It is equally to chose fish, corals and invertebrates that are compatible with each other. Some fish are territorial and can be aggressive toward others. In a more compact environment, like the BioCube, aggressive fish may not be secluded enough and could attack others. Saltwater live corals can also act in a similar manner.
The best advice is determine the compatibility of all of the living inhabitants of your aquarum may come from an experienced sales person at your local pet store. Take the time to ask questions, and have the salesperson show you wich plants and animals are compatible so you can choose your favorites to create the ideal aquatic environment.