I'm taking down one of my 55 gallon tanks. My original 55g is a planted tank, with 5 bags of Eco-complete, Coralife CF lights, CO2 injection, etc. I'm wanting to go with something easier to take care of, due to time and health reasons.
I am thinking about buying a new 55g system this weekend. I plan on having a medieval theme, since I tend to frequent the Texas Ren Fest every year (in full garb).
So far I have bought this, because I just could not pass it up: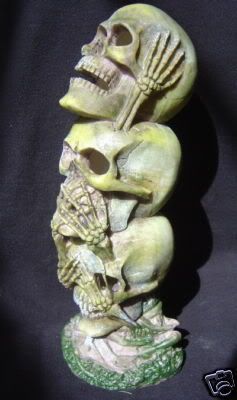 I also bought a 7 inch wizard: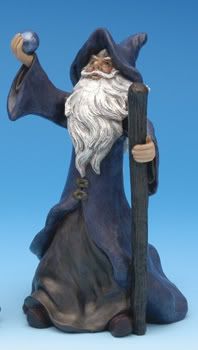 I've always liked wizards, and have a large collection of pewter wizards and dragons.
I am leaning towards buying the Penn Plax castle series, which consists of five pieces. I can pick this up for about $115.00 plus shipping. I've enlarged the photo so you can see it a little better. I know that the two central pieces equal 25 inches, but do not know the total, only that it will fit in a 55g.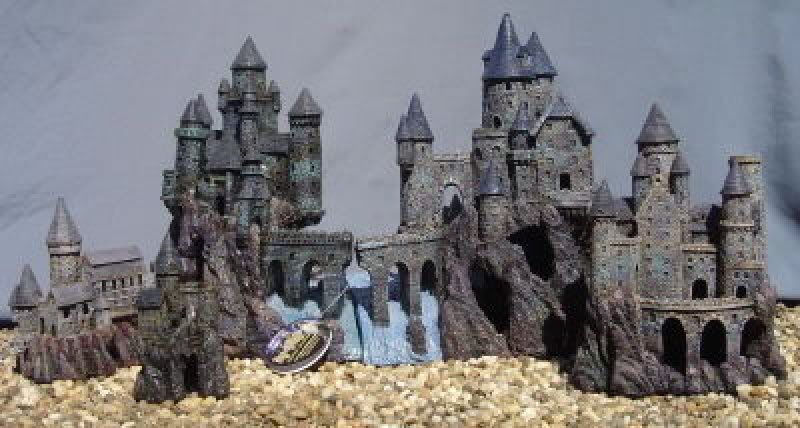 I normally go with black backgrounds on my tanks, which I paint myself. Both current 55's are black, as is my 29g and my 10g salt was painted black (my 29g salt has no background).
I have enough white gravel in storage to fill a 55g tank. I had considered something else at first, but I'm thinking about buying an LED system with blue lights to give it a cool moonlight effect, and think the white gravel would really pop out under the LED lights at night.
Give me some ideas about a background for this castle. I'm leaning towards one color, and really don't feel like painting this one. It's been around 105F here for almost two months and I don't feel like killing myself.
Ideas? Suggestions? Comments?