Jul 9, 2003
8,866
14
38
35
(Long post incoming)
This has been pretty much a dream forever, and I finally bit the bullet! The motivations behind this tank are not only to house the discus I want currently, but this tank can be my showpiece down the road. It will make a great FW or Reef tank whichever I decide to do later on, and its a tank that can satisfy my needs if I were to ever move somewhere with a living room area. So its almost like planning for the future as well.
Here is the rundown:
Tank:
48x24x20 Rimless/braceless (except bottom frame/rim) with 1/2" glass with polished edges. Approx 100gal. 3 side starphire.
Stand:
Homemade 2x4 and 2x6 as usual. Skinned and stained in a darker walnut. Or skinned with a simple stage skirt material.
Filtration:
2x Eheim Classic 2217
Lighting:
DIY LED fixture
Substrate:
Pool filter sand
Decor:
Manzanita wood, small rocks, maybe a little leaf litter?, and possibly some floating plants
Fish:
See Below
The Tank
- As said above its a 48x24x20 (100gal approx) custom rimless tank that was made by a Canadian company and shipped to me. Surprisingly US companies charge almost twice as much for tank and freight as this Canadian company, and it has a good rep among reefers (good quality and service). It will have Starphire front and side panels and all edges will be polished smooth. Kind of stoked about it. I debated going with a 60x20x20, but I really wanted to be able to utilize 3 visible sides, and the 48" tank afforded me that. Also I find the increased width adds more to the tank then say adding more height, thats why I chose the 48x24x20. I wanted to stay as low on gallons as possible, but still have a big tank. So I opted to go 100gals and not 120gal. Still should be a very nice footprint to work with regardless and offer plenty of room for the fish.
The Stand
- Home built from the usual suspects, 2x4 and 2x6. Still haven't skinned it, not sure I want to now or not. Maybe if I were to ever move it.
Filtration
- 2 Eheim 2217 classics. Simple and easy. I figure I can always tweak them and turn them down, you can always decrease flow, never increase. I really didn't want to mess with a sump for this tank, thats why its not drilled and there is no overflow. Kind of regretting it now, I'd love to have the extra volume and be able to filter the water a bit more. But oh well, maybe later. Like I said, simple and easy....thats the best way to keep discus.
Lighting
- This is the biggest project of the build, and the area I had the least amount of experience on. But what better way to learn. The good thing about this setup is that I'll be wiring 4 whites together, 4 blues together, then another 4 whites together. So I can choose to use all 12 at once, 8 at once, or just 4 whites at once. And the blues will be moonlights. All of these are dimmable too so I can adjust brightness as I want. This is a project in itself. I've found lately that I use the blues with the whites and not as moonlights.
Fish
- 9 Wild Cuipeua Alenquer, 4-6 F1 Mesonauta Acora (Depends on if I move a pair or not), 1 Wild Crenicichla regani, 3 Wild Rineloricaria sp. Whiptails.
There isn't an exact replication of the pictures below, my design work is better then my carpentry or DIY work, MUCH better but I just wanted to show how it evolved. This tank will be in my bedroom, here's a almost to scale replica to show its position against the wall, next to my rack of breeders. (The bottom of my bed is not wood...I just thought it looked better that way. Easier to distinguish.)
The light bar is made from bent electrical conduit, easy DIY. It will be attached with brackets to the back of the stand.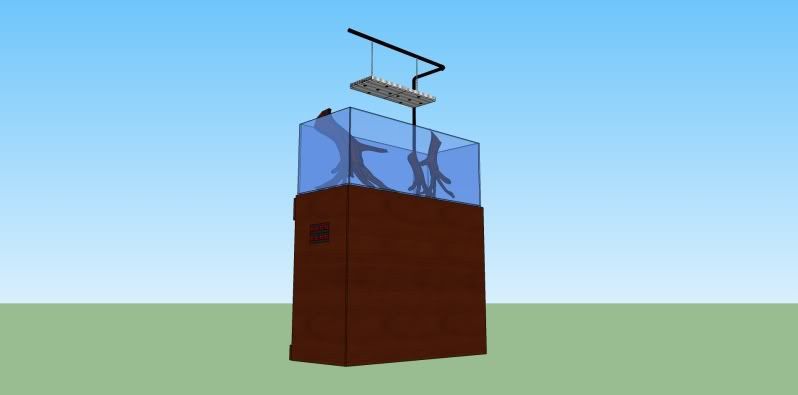 LEDs mounted on a heatsink hung above the tank. The blue will be wired separate from the whites, and the 4 whites straight across the middle will be one array, while the other 4 in a square shape will be another array. All will be dimmable, and all arrays will be able to be turned on/off separately. You will notice these do not span the width of the tank. I want some spotlighting effect and the sides to be somewhat shadowed. Should give me a nice ripple effect too.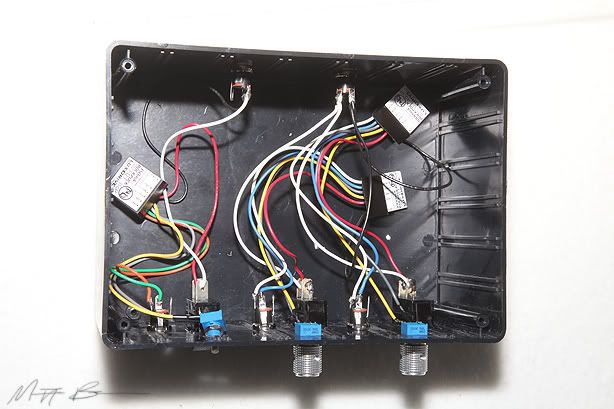 Here is when I first setup the tank